July was an interesting month for us. Our small, remote team got together and hung out for the first time. It was nice to spend time in-person and talk about the things we want to do next, and the things we need to go back and improve upon.
Coming to July's deliverables, we had underestimated the complexity of certain things we wanted to build (like adding support for live photos and shipping a progressive web app), and could not ship them within the time-frame we wanted to. But we did ship some other things like:
Larger (and smaller) subscription plans (10 GB - 2000 GB)
A desktop app that lets you keep a local copy of all the items you've backed up on ente
A widget within the settings screen that displays your usage details
The ability to change your registered email address
Ability to ignore videos and backup only images
Improvements to the image viewer which now shows you EXIF information, among other things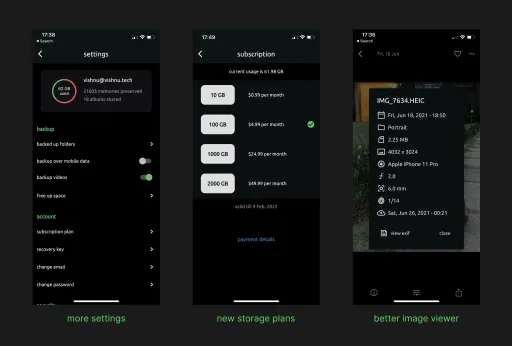 While we were busy building these, Google's algorithms decided that it would be fun to call us a "spyware" and ban us from the PlayStore. We had to spend unnecessary time and energy to get things straightened out.
But on the brighter side of things, this instigated us to set up our own distribution channel on Github, where we can serve you updates with no middle men. We are hoping to push future customers to this channel as it eliminates the need for trust (since every release is built automatically straight from our source code) and gives us more flexibility to manage our releases.
Coming to what's next, this month we'll be wrapping up tasks that have spilled over from the last (live photos, PWA, knowledge base, ...), and focusing on improving the user experience of our apps and refactoring certain parts of the codebase that are losing their charm.
Like always, if you've any feedback or if there's something you want us to build, please let us know. And if you like what we've been building and want to fund our development, please tell your friends and family about Ente, since subscriptions are our only source of income.
That's all from our side. Wish you a friendly August ahead. :)