We're half way through 2021, and I hope it's been as peaceful a ride for you as it could have been.
June was an eventful, productive month for us.
Firstly, as committed, we shipped an image editor to help you flip and crop and add some pop to your photos.
We also added an option to our mobile apps to free up space by deleting photos and videos that have already been backed up.
Apart from these, we've also increased the security of our authentication flow. An attacker will now have to verify ownership of your email and also prove knowledge of your password to authenticate against our servers. You can get a high level overview of how this works here.
In addition to this, we've also added a conventional "two-factor" authentication that you can opt into. Given the design of our authentication flow that now requires you to exhibit ownership of your email and your password, this technically adds a third-factor, but to avoid confusion we will just call it "two-factor" 🤷
We've also shipped a slew of infrastructure improvements that we as engineers are proud of, but will remain invisible to end users. But we're happy, and I just wanted to share that with you.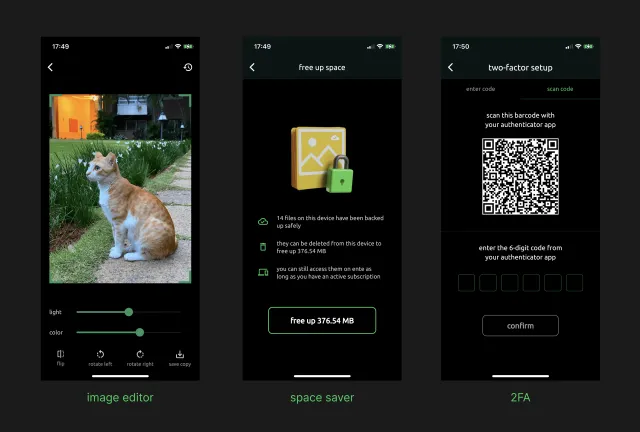 You can grab the latest builds on PlayStore, AppStore or GitHub.
We also have some exciting developments to share, but I'll talk about those over the weekend on a separate thread. In the meanwhile, if you've any feedback or bugs to report, please write to [email protected].