GDPR mandates that businesses provide a way for users to download their data in an accessible format. This right to data portability ensures digital sovereignty. We must own our data.
Since our first launch, Ente has provided a way to export the data you've trusted Ente with, with a single-click.
This was in stark contrast to bigger companies with infinite resources who make it a hassle to get your data out of their systems.
As we grew, we found out people were using the feature not just to export their data, but also to keep a local copy of their memories. Some users even started using this as a way to keep an extra copy of their data else where.
Since we did not have these use cases in mind when we initially built the feature, users started running into limitations.
So, we decided to re-build Export from ground up, with the aim of making it a much better experience for user who wish to keep a local copy of their data.
Continuous Sync
Continuous sync eliminates the need to run exports manually every time new photos are added to Ente.
Now whenever our desktop app gets to know that there are new files are available on Ente, the export is ran automatically, and your local folders will reflect the state on remote.
This means not only will the exported data contain newer files, it will also mirror the latest state of your albums, by applying moves and deletes.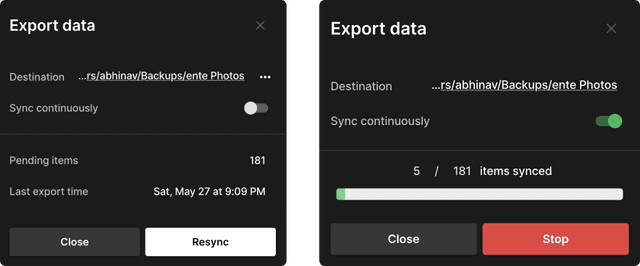 To avoid losing data, deleted / removed items are moved to a separate Trash folder within your albums, keeping your exported album folders nice, tidy and up-to-date.
We hope these improvements will help make your experience with Ente more seamless.
We are now working on more improvements to ente's web and desktop apps, stay tuned!
---
If you'd like to hang out with a bunch of programmers building end-to-end encrypted apps, join us on Matrix or Discord.